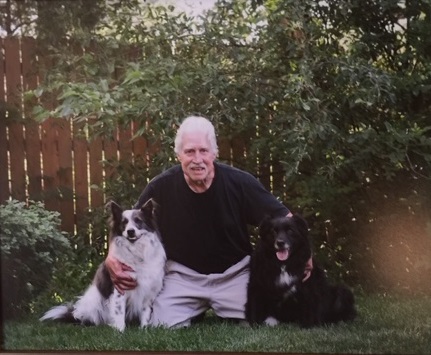 After learning about Animal Friends Alliance (formerly Animal House and the Fort Collins Cat Rescue & Spay/Neuter Clinic) at PetSmart in 2011, Steve decided to jump on board as a volunteer. Since he started, Steve has helped us with Mobile Adoptions, Event Dog Dates, Volunteer Training and is now a K-9 Coach. Since becoming a K-9 Coach, Steve has worked endlessly to provide training and care for dogs who need a little extra attention. 
Steve began his career as a traveling salesman for an automotive parts warehouse in Missouri, which helped him realize he had a real talent in working with people. He traveled the Midwest for about 8 years and then took a job with a manufacturer of automotive exhaust products and transferred to Colorado. He's an expert on emissions and trained hundreds of mechanics on vehicle emissions as well as suspension, exhaust and converter repair.
After years of hard work, Steve retired in 2018. Since retiring, Steve has dedicated himself to helping any dog he can at the shelter. Steve has been spending 3 to 4 hours each day during the week to help train the dogs to get them ready for their new home. He feels that giving his time to helping animals in need is the best way to spend his retirement.
One of Steve's most memorable moments as a volunteer was in the Spring of 2014 when a brother and sister Pyrenees mix showed up at the shelter. They were 80 lbs each and had spent a year and a half in crates. The pair had behavior issues that caused them to be adopted and returned repeatedly but Steve was determined to help them. He worked with them each week doing behavior modification and eventually brought them into his home for 10 months until they were adopted. They became so close in that time that it was hard to part ways but Steve knew it was for the best.
Currently, Steve has two dogs, Jake, his 14 year old black Aussie mix, and his new rescue, 2 year old Bradley. In 2014, after the loss of his wife, Steve's dogs became everything to him. At the time, Steve also had Mesa, a 5 year old grey and white border mix who he adopted from Animal Friends Alliance. Tragically, Steve recently lost Mesa to cancer. Jake and Mesa loved each other dearly and have traveled all over with Steve. Steve hopes Bradley will bond with Jake and become their new travel companion.
Steve is such a huge help to our organization. He not only steps in each day to help train dogs but he has also been instrumental in getting dogs adopted at events. Steve has a way with people and enjoys working with potential adopters to find out their needs and match them up with the right dog. Steve gets to know each dog and their individual personalities in order to help find the right home for each dog. Steve believes that love and understanding go a long way in building trust with shelter dogs, which allows him to train dogs who have a harder time getting adopted. Steve plans to stay with the organization assisting in any way he can to make sure each dog is adopted by a loving family. Thank you for all you do Steve!