Happy Tails
Krieger's Happily Ever After
"We absolutely love our new pup, Weebo. We renamed him Krieger but to help him transition his name, we call him Kriego! He's very sweet and gets along with our current dog, Archer, very well! He just got a haircut to clean up his fur a bit and get a fresh start! He loves walks, car rides, running around the yard, visitors, snacks, plushies with squeakers, fetch, and belly rubs. He's been the easiest rescue dog and we are so grateful of Animal Friends Alliance to be able to take him home. We love him so much!"
Tony's Happily Ever After
Tony (left) was adopted from Animal Friends Alliance as a kitten. His adopters knew they were taking a risk by bringing a second cat home because their existing cat, Wayne, had never met a cat he liked. They did a slow introduction and who would have guessed it – the cats became best friends almost instantly!  Tony is almost 2 now and can still tumble with the best of them. They spend hours every day chasing each other and play fighting. When he isn't busy shadowing his bro, Tony is the snuggliest little lap cat who loves to have conversations with his people.
We're so happy Tony and Wayne found each other! 
Mollie's Happily Ever After
Mollie (the dog), was adopted from Animal Friends Alliance back in 2015 after giving birth to a litter of puppies. After doing an amazing job rearing her kids, she was adopted and given a new life and a new best friend – Abby, a rescue cat from Texas. As you can probably tell, these two love to snuggle the day away.
There's nothing we love like a good cat and dog friendship!  Happy tails Mollie!
Taco's Happily Ever After
Taco was adopted from Animal Friends Alliance last fall. It's hard to tell from the pictures, but this guy isn't just any Golden Retriever, he's a Corgi mix! His adopter says "He loves to cuddle, and play with our other dog, and he absolutely LOVES the snow!"
It sounds like Taco is in heaven with his new family, happy tails little guy!
Jack, Sam, and Max's Happily Ever After
These 3 adoptive bros all came from Animal Friends Alliance and look at how much they love each other! Even though they were all adopted at least a year apart, Jack, Sam, and Max treat each other like family. They clearly don't know the meaning of "personal space," and who would want it when you have 2 best friends to cuddle with. Their adoptive family calls these arrangements "cat stacks!"
We're so glad Jack, Sam, and Max found each other! Happy tails boys!
Zion's Happily Ever After
Zion is a wonderful pooch who struggled in the shelter environment because of barrier reactivity, he just didn't like feeling stuck. We are happy to share that Zion scored the jackpot with his new home. His adopter is a horse trainer and he gets to hang out in a big open space with new friends ten times his size! His adopter says "He is so wonderful, I am excited to give him a good life!"
We are so happy for Zion and his new friends!
Rueben's Happily Ever After
Rueben is the sweetest Tabby kitten who has found the amazing home that he deserves. His new family says "He is delightful. We are all so in love with him and grateful we found him. He has made friends with our adult cat (adopted from Animal Friends Alliance), our boxer mix (adopted from Animal Friends Alliance) and our Weimaraner. Life is good." 
Otter's Happily Ever After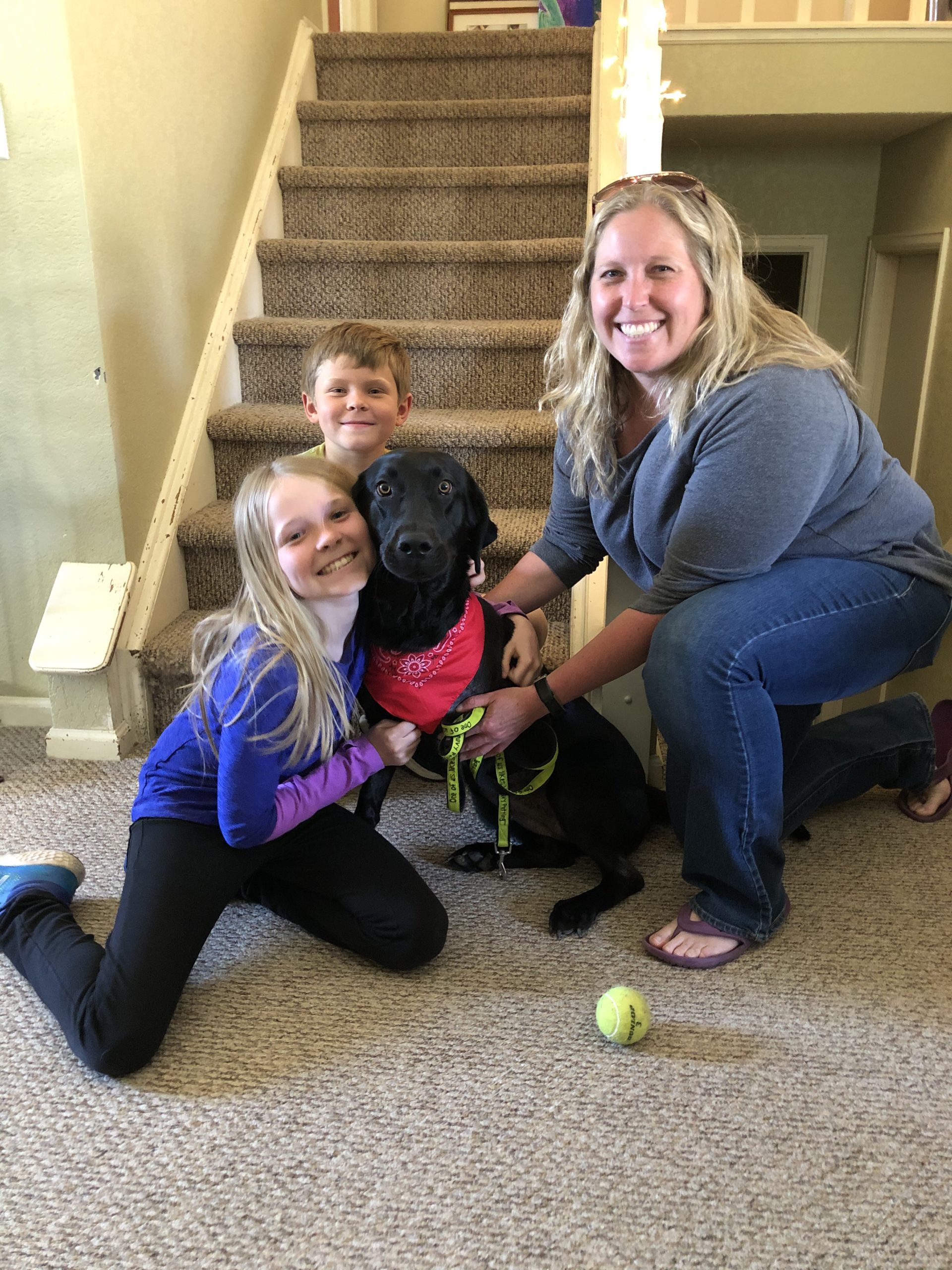 Otter, the two-year-old retriever/lab mix, came to us after an accident left her with a life-threatening leg injury. She was brought to our clinic where it was determined that the injury was too great to save the leg. Dr. Marsella, the shelter veterinarian at our Taft Hill Campus, performed a lifesaving surgery and she was placed in an amazing foster home to heal.
Otter recovered like a champion in her foster home and her story resonated with a new family who joyfully adopted her. Otter is now enjoying the love and care of her new home.
Hagrid's Happily Ever After
Hagrid was originally adopted as a kitten, but he made his way back to FCCRSNC in spring of 2019, when he was about two years old. When he arrived back at our shelter, Hagrid was often easily agitated and his behavior was unpredictable. As Hagrid got more  comfortable, however, his sweetness soon began to shine. He wasn't too happy sharing his space with other cats in the shelter, but for several months, he was our beloved office cat, "helping" us to sweep and making himself comfortable on our laps—and our laptops! One day, a potential adopter stopped by our shelter with another kitty in mind. That cat had already been adopted, so our Adoptions Program Manager suggested Hagrid. When the adopter met Hagrid, it was an instant love connection! The adopter needed a few weeks to work out a change to his living situation, but he was so committed to Hagrid, he would come by almost daily while he prepared to bring Hagrid home. Hagrid's new person reports he is doing well. He says Hagrid relaxed on the couch as soon as he got home! We wish them both many happy years of love and companionship!