Animal Friends Alliance
Adoption-guarantee shelter and subsidized spay/neuter clinic offering resources to keep pets in loving homes. Serving Northern Colorado and beyond.
Adopt an Animal
Make a Donation
Saving Animals Today
Our Impact
By the Numbers
Animal Friends Alliance has been saving animals in our community since 2006. In that time we have:

Adopted 33,995 cats and dogs into loving homes

Spayed and neutered 77,743 dogs and cats

Trapped, neutered, vaccinated and returned over 2,300 community cats
Keeping pets in homes
We believe that the best home for an animal is the loving home they're already in. We offer services to help keep pets with the families who love them, including:

Our Spay/Neuter Clinic helps local pet owners access basic preventative health care for their companions
Our Kibble Supply Pet Food Pantry fills the gap for pet owners facing financial insecurity

Our Prevent a Litter Plus program provides financial assistance for under-resourced pet owners to get their furry friends spayed/neutered and vaccinated
Winston
Picture this: A day full of lounging, exploring the great indoors; watching Netflix or Hulu, diving into a great book, texting your friends and family, perusing social media. Now, imagine this with your furry best friend by your side! Does this seem like paradise? Well, it is! And it is Winston's vision of paradise too! This giant snuggle bug LOVES to kick back, and hang with his person. He is house trained, does not destroy your stuff and has his favorite "stuffies" he brings with him around the house (it IS as cute as it sounds). He loves to explore the backyard and sniff all the sniffs. I am sure you're thinking: what is the catch? Winston experiences some intense feelings when he sees other dogs. He pulls. He cries. He barks. He flops around like a fish out of water. No other dogs = perfect bestest boy. That is the secret to success for Winston and his person. And like most dogs, Winston thinks chasing small fluffy and furry things is fun and instinctual. No small fluffy/furries = perfect bestest boy. That is his equation, pretty simple, right? Because we are so invested in making Winston his best self, he will also come with a special (free!) training course to help him and his new people get to know him better. Winston is ready for the next step in his journey, are you the one to take the leash?
What Drives Us
Our Mission
To provide comprehensive companion animal resources, services, and education to the community to prevent homelessness and promote the human-animal bond.
Our Vision
All companion animals experience a healthy home where they are wanted,
cared for, and loved.
What we do
Community Pet Resources

Spay/Neuter Clinic
Spaying and neutering not only prevents unplanned litters, it protects your pet's health and wellbeing! In addition to sterilization, our clinic offers vaccination, testing, flea/tick and heartworm prevention, and other basic preventative care.
Kibble Supply Pet Food Pantry
Pet owners who are governmental assistance, who are struggling to make ends meet, or who are facing a temporary financial hardship can receive free pet food from our Kibble Supply Pet Food Pantry on designated distribution days.

Community Cat Program
Our Community Cat Program traps, spays/neuters, vaccinates, and returns community cats to safe outdoor placements or finds loving homes for socialized kitties. If you are caring for a colony of community cats, we may be able to help.

Prevent A Litter Plus Program
Preventing unplanned litters and keeping pets healthy is important for every family, regardless of financial situation. Our Prevent a Litter Plus program provides assistance to spay/neuter and vaccinate the pets of community members with lower income.
Give
Support Animal Friends Alliance
Saving Pets Challenge
Help Animal Friends Alliance compete against shelters across the nation in the Saving Pets Challenge! This month-long crowdfunding campaign has weekly bonuses and a top prize of $50,000 for the organization that raises the most in the month of September. That's a lot of lives saved! Plus there are fun Animal Friends Alliance prizes for top donors and crowd funders.
Get Involved
Volunteer with Animal Friends Alliance
Foster for Animal Friends Alliance and save a life!
Experienced fosters summarize the joys of saving animals in only 1-2 words. Watch to learn why you should become a foster for Animal Friends Alliance!
If you've been looking for a way to get involved in your community, or if you've been on the fence about opening your home to a foster animal, then this is your sign to get involved! Fostering is so rewarding and with Animal Friends Alliance, you'll have the support you need to feel confident and ready to change the life of a homeless animal. If you're ready to make a difference, email foster@savinganimalstoday.org.
Happy Tails
Meeko and Moose's Happily Ever After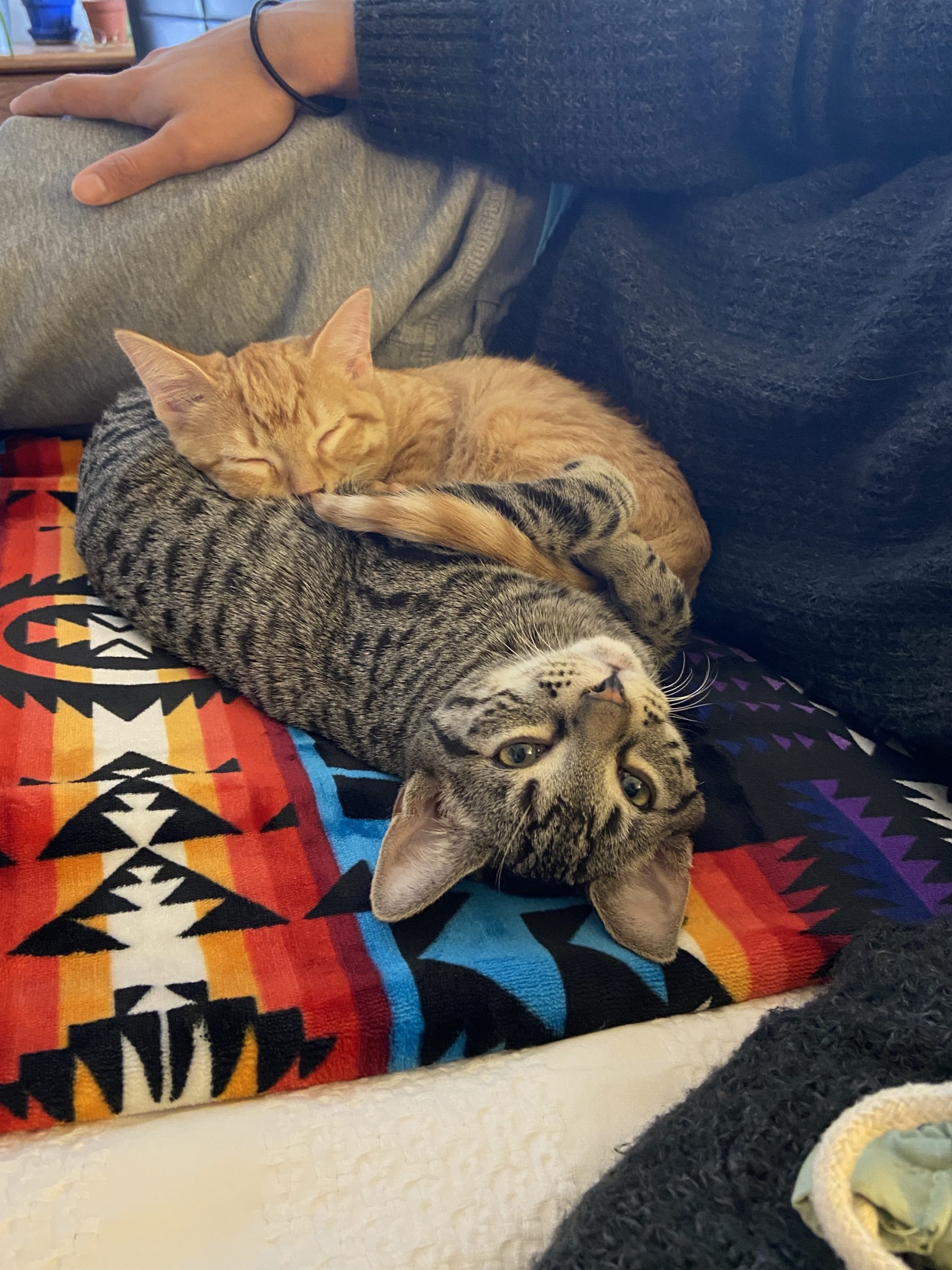 Meeko and Moose were adopted in February of this year. They grew up outside but have already settled into the housecat life! Their adopter describes them as absolute sweethearts who love to cuddle. We are so happy that these two kitties get to enjoy their new life together! Happy Tails Meeko and Moose!