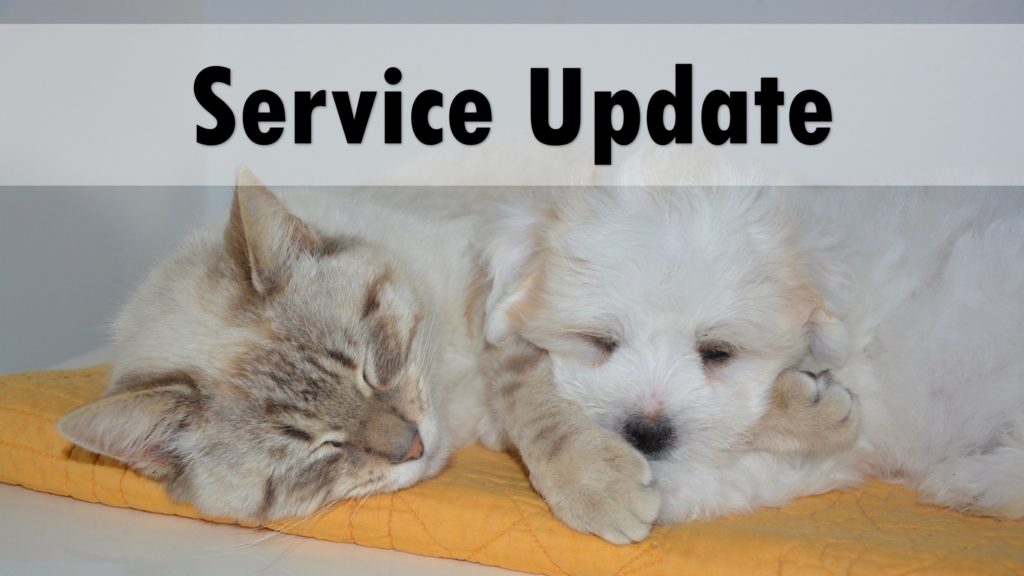 This post will be updated regularly to reflect changes to our services.
UPDATE 3.28.2020: We are having technical difficulties with our phone system. If you call our shelters and are unable to reach anyone and unable to leave a message, please email adopt@savinganimalstoday.org. Thank you for your understanding.
Due to stay-at-home orders issued by Larimer County and the State of Colorado, our campuses remain closed to the general public through April 17. Some essential services are available by appointment or schedule:
Adoptions by Appointment. We have received approval from the county to continue adoptions by appointment. If you are interested in adoption, please visit SavingAnimalsToday.org/adopt to see adoptable animals and complete an adoption questionnaire. We will contact you to arrange an appointment. During your appointment, we will be following CDC recommendations, including following 6-foot social distancing guidelines and we will be sanitizing our adoption area in between each guest. Please take care to follow instructions to protect your health and the health of our staff. Also note that we are currently experiencing high demand for adoptions and limited staff to perform them, so please be patient. It will take us longer than normal to contact you, but we are doing all that we can to serve you and to place our animals in your wonderful, loving homes.
Vaccine Clinic. We are offering vaccines by appointment on April 4, April 11, and April 16. To make an appointment, please call our clinic at (970) 484-1861 and leave a message. Please note that you will be asked to make a non-refundable appointment fee ($10–$25) at the time of scheduling.
Kibble Supply Pet Food Pantry. Our Kibble distribution day on April 9 will take place as scheduled. We will be using "drive through" distribution, so please stay in your vehicle and comply with posted signs and instructions.
Services at our grooming salon and clinic are being rescheduled. Due to the Executive Order halting all elective medical procedures, public spay/neuter surgery scheduling has been postponed until at least April 15.
We will continue to take extra steps to disinfect surfaces that come in contact with members of the public and perform extra cleaning in between guests at all of our facilities. We are taking all feasible precautions to ensure social distancing and prevent unnecessary person-to-person contact for all of our services.
As always, we are working hard for the animals. Here are some of the ways you can count on us to continue to serve the dogs, cats, and people in our community:
We will continue to provide exemplary care for the animals in our shelter. Our excellent foster network is stepping up to allow as many of our animals as possible to stay in a home-like environment while we are closed, but rest assured that every animal in our care will receive the highest standard of care.
We are continuing to accept transports of animals in need.
We are assisting community members by phone and email.
Community members can still apply for assistance from our PAL+, Kibble Supply Pet Food Pantry, and Community Cat Programs through our website.
We hope that we can count on you as well. We need our community more than ever. You can support Animal Friends Alliance by making a donation or, even better, joining our monthly giving club! Even a small monthly gift makes a big difference. You can also donate supplies through our wishlist. If you follow us on Facebook, you can share our fundraisers and adoptable animals. The more help we have now, the better prepared we will be for whatever comes next. Thank you for your understanding throughout this changing situation and thank you for your support!